Meet Our Donors
We thank all our planned-gift donors for their generous support. Here are two of their stories.
Ship and Midge Atwater : A Nod to the Past and a Message to the Future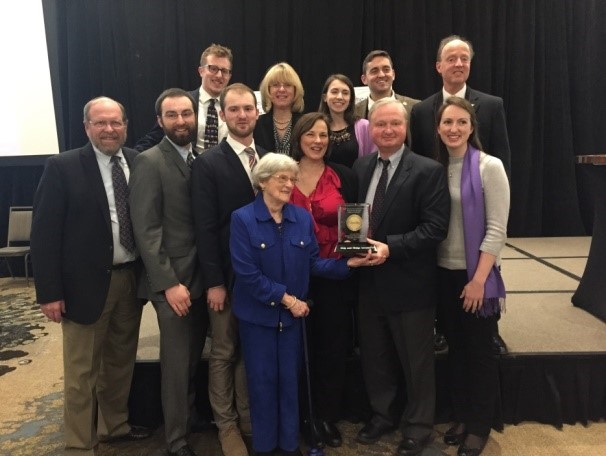 Midge Atwater, surrounded by family from near and far, accepts the Ship and Midge Atwater 2017 Distinguished Philanthropy Award at the New England Association of Health Care Philanthropy Annual Conference in Portland Maine on March 6, 2017
McLean's Development department nominated Ship and Midge Atwater in recognition of the couple's philanthropic commitment to generational giving and to McLean and the Atwater Memory Care Assisted Living at McLean.
Twenty years ago, Ship and Midge moved to the independent living Village at McLean. A former IBM idea man, Ship was eager to engage in conversations to have a lasting impact at McLean. As a couple, they were also acutely aware of the responsibility to follow in the footsteps of their elders and provide a role model for the future generations.
Ship's great-grandfather founded the Children's Home in Cincinnati in 1864; his mother's two aunts founded the Shipley School for Girls in PA and his grandfather was actively involved in the founding of Noble Hospital in Westfield, MA and served as its first Medical Director. Midge's grandparents and great-grandparents were active in their church, supported missionary work for a just society, and Midge's aunt was significantly engaged in Berea College in the Kentucky Appalachians.
After raising their children and caring for community through volunteer service and charitable giving, Ship and Midge felt an urgency to determine where to direct hard-earned, good fortune and provide a role model for their grandchildren.
Reflects McLean President, David Bordonaro:
"Ship and Midge's gift provided the leverage and impetus to launch the next stage of McLean's strategic plan. At the time, McLean was well-known for superb skilled nursing care. However, both our demographics and community were telling us that they wanted more - specifically – they wanted assisted living services at McLean. With memory care an integral part of aging and quality of life, the Atwater Memory Care Assisted Living Neighborhood launched in 2013 – fulfilling the needs of an ever-changing community.
Granddaughter, Sarah DiPasquale, reflects on the family values: "It's not what was said but what was done. And while I knew my grandparents wanted to give back in a substantial way to McLean, they didn't talk about it much. They were modest with their words and taught us through deeds and actions."
Grandson, Nathaniel Atwater, speaks of his grandfather as a monumental person in his life with his most important trait, a strong moral compass. He provided unwavering support and unconditional love to all his family.
Ship died in 2015, two years after The Atwater opened at McLean and long enough to see the realization of his dream. So while he was not present to receive this award, all is how he had planned. The legacy continues and story begins anew with the future generations.
A Legacy of Laughter, Love and Compassion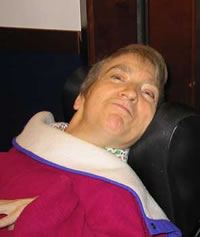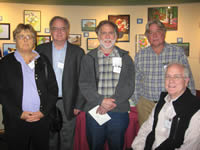 Cousins Maggie, Henry, Rod, Ed and Bill Fountain gather to celebrate Hospice Family Room dedication in memory of Betsy Tesone.
Betsy Tesone, a thirty-year resident of McLean, left in her will a charitable gift to enhance Hospice care for McLean residents Gail Johnson, a McLean evening nurse supervisor, recalls their nearly thirty–year relationship and Betsy's extraordinarily bright spirit:
Betsy had a smile that was broad and beautiful, and eyes that danced when she laughed. We shared the same birthday and enjoyed eating lobster to celebrate every year. She had a passion for singing, movies (comedies, of course), swimming, and Elvis. Betsy loved church services, but she loved summer the best. She spent her summers at camp and with her Aunt Polly Fountain and cousins. She had walls of pictures in her room of family and friends.
Betsy's inner strength and tolerance for her disability always amazed me. We spoke of reincarnation often, and she wanted to return as a bird, free and soaring. I am sure God has obliged. Betsy is gone from our lives but not from our hearts.
Recently, Betsy's cousins, all five Fountain siblings, gathered for the dedication of the Betsy Tesone Hospice Family Room made possible by Betsy's bequest gift. Fully renovated for Hospice family members, the room includes a pull out couch, bathroom, shower and other comforting amenities. The room dedication included thoughtful readings and song, along with spontaneous laughter as the group uniformly decided that Betsy's only critique would be that the room lacked a giant photo of Elvis.