Meet Our Donors
We thank all our planned-gift donors for their generous support. Here are some of their stories.
Ship and Midge Atwater : A Nod to the Past and a Message to the Future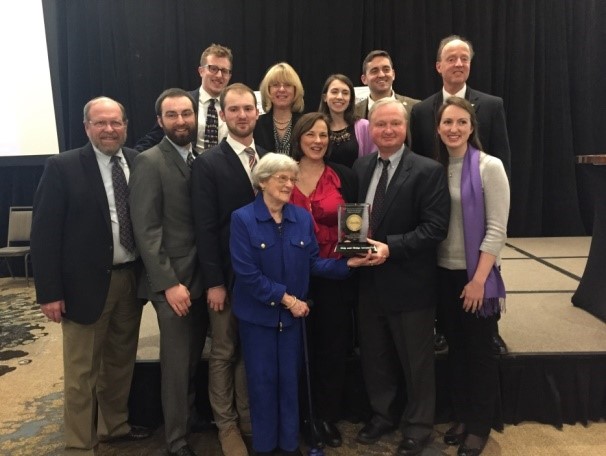 Midge Atwater, surrounded by family from near and far, accepts the Ship and Midge Atwater 2017 Distinguished Philanthropy Award at the New England Association of Health Care Philanthropy Annual Conference in Portland Maine on March 6, 2017
McLean's Development department nominated Ship and Midge Atwater in recognition of the couple's philanthropic commitment to generational giving and to McLean and the Atwater Memory Care Assisted Living at McLean.
Twenty years ago, Ship and Midge moved to the independent living Village at McLean. A former IBM idea man, Ship was eager to engage in conversations to have a lasting impact at McLean. As a couple, they were also acutely aware of the responsibility to follow in the footsteps of their elders and provide a role model for the future generations.
Ship's great-grandfather founded the Children's Home in Cincinnati in 1864; his mother's two aunts founded the Shipley School for Girls in PA and his grandfather was actively involved in the founding of Noble Hospital in Westfield, MA and served as its first Medical Director. Midge's grandparents and great-grandparents were active in their church, supported missionary work for a just society, and Midge's aunt was significantly engaged in Berea College in the Kentucky Appalachians.
After raising their children and caring for community through volunteer service and charitable giving, Ship and Midge felt an urgency to determine where to direct hard-earned, good fortune and provide a role model for their grandchildren.
Reflects McLean President, David Bordonaro:
"Ship and Midge's gift provided the leverage and impetus to launch the next stage of McLean's strategic plan. At the time, McLean was well-known for superb skilled nursing care. However, both our demographics and community were telling us that they wanted more - specifically – they wanted assisted living services at McLean. With memory care an integral part of aging and quality of life, the Atwater Memory Care Assisted Living Neighborhood launched in 2013 – fulfilling the needs of an ever-changing community.
Granddaughter, Sarah DiPasquale, reflects on the family values: "It's not what was said but what was done. And while I knew my grandparents wanted to give back in a substantial way to McLean, they didn't talk about it much. They were modest with their words and taught us through deeds and actions."
Grandson, Nathaniel Atwater, speaks of his grandfather as a monumental person in his life with his most important trait, a strong moral compass. He provided unwavering support and unconditional love to all his family.
Ship died in 2015, two years after The Atwater opened at McLean and long enough to see the realization of his dream. So while he was not present to receive this award, all is how he had planned. The legacy continues and story begins anew with the future generations.
Dick and Jody Gates: A Family Tradition of Giving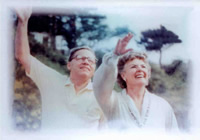 Giving to community is rooted deep in the Gates family, passed down from Dick's grandfather, Frederick T. Gates. A man of many talents, Frederick was a Baptist minister, educator, and the principal business and philanthropic advisor to a wealthy industrialist client who shared his Baptist faith.
In the spirit of a clergyman, family legend tells of Frederick pounding his fist on the table and saying to his client: You are making too much money and need to give to charity!
Apparently, his client got the message and with the persistent urging from Frederick founded the University of Chicago and his own foundation — the John G. Rockefeller Foundation. John and Dick would forge a lifetime relationship, and Frederick would serve as a trustee of the University.
Dick continued his grandfather's tradition of philanthropy. Quiet, thoughtful, religious and devoted to family and community, he and his wife, Jody, created two family foundations: one during their lifetime and one through a bequest gift. An industrial engineer and entrepreneur by trade, Dick never stopped envisioning a better future and particularly loved capital improvements.
One day Dick noticed a leak in the roof near the fireplace in the health center. After talking with McLean President, David Bordonaro, he directed this gift for roof repair -a most unusual designation for donor giving but a perfect match for Dick's expertise!
Dick died in 2011, but his spirit is remembered by all. His bequest gift funded another capital improvement: The Atwater Assisted Living Memory Care. Today, the Richard J. Gates Dining Room and Country Kitchen is a hub of activity, conversation and shared meals. Dick would be pleased as mealtime was always the heart of his home.
Mim Nichols: We Will All Remember Her Wit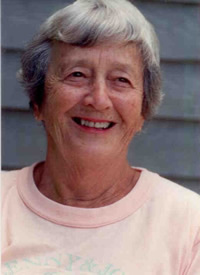 "One thing we'll all remember about Mim is her wit," reflects Mim's (much) younger cousin, Denise Hammick, of Simsbury. Unfortunately, many of her most favorite expressions were not fit for this article - and this fact alone will bring a smile to all who remember Mim.
Mim was astounded by her age: "How did I get to be so old?" she would frequently muse. Yet at 96, she moved about independently as a resident of the Robinson, the assisted living neighborhood at McLean.
Perhaps it was her years of good work as a nurse that kept her in sound mind and body, or all the golfing with her husband, Tommy, who predeceased her.
Actually, Tommy would have insisted it was the years of fishing trips that attributed to his wife's longevity. It took Mim decades to convince him to try another vacation activity, and through her great persuasion they shifted from fishing to cruise ships.
After Tommy died, McLean became Mim's life and she was deeply committed to sustaining its vibrant community. Just one year before she died, Mim quietly increased her bequest gift to McLean. Yet she did not want any fanfare. There were so many organizations she cared about and wished she could help them all. She cared deeply about health care and the health and well-being of children, animals and people of all ages with disabilities.
Mim's humor sustained her and others during her final days of life with her extended family and McLean family. Denise remembers fondly Mim's clarity when saying: "I'm going to catch a bus to be with Tommy and my sister." Denise replied: "Watch out! If you go up there with him, he's going to make you go fishing!" Mim's generosity will support capital improvements to the Robinson Assisted Living neighborhood.
Maureen M. Ellis Scholarship Fund for Nursing Education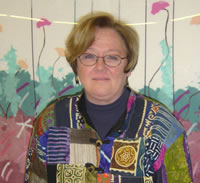 "Maureen just loved McLean," her husband, Bob, remembers fondly. A contagious laugh, a smile for all, boundless energy and tireless dedication, Maureen brought all this and much more to the McLean community. For most of her professional career and all of her retirement years, Maureen and McLean were intertwined as nearly one. Maureen began at McLean as an evening shift nurse when her children were young, and then continued on to serve as the Director of Nursing. In retirement, her passionate commitment continued: she joined the Auxiliary Board and then served as a three-term president. "The staff and residents were her family," reflects Bob, "and Maureen was always interested in making the lives of people better,doing whatever she could do."

Bob Ellis,
husband
In memory of her deep commitment to the growth and well-being of all people, Bob created the Maureen M. Ellis Nursing Scholarship Fund for Nursing Education. This is the first endowed education fund at McLean and for generations to come will ensure scholarship funds for staff who want to further their professional health care career. "Maureen really valued education," Bob continues. "She was so grateful for the opportunity given to her through a scholarship to nursing school. It would make her very happy to know her family and friends are creating a permanent fund for to extend this opportunity to so many others."
We haven't had this much fun giving to charity in years! - Art and Sheila Phillips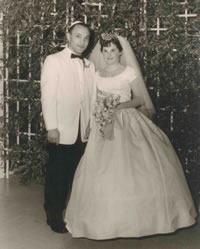 May 28, 1961
Sheila and Art Phillips love McLean, and their community and life. While theirs has not been a simple or uncomplicated life, they embrace challenges with compassion, kindness and humor – perhaps inherited by Art from his Uncle Phil who produced the Jimmy Durante Show?
Now, in their 50th year of marriage, Sheila says that adversity has only made them closer. And, she shares Art's sense of humor when she tells him: I'll get back my waistline if you get back your hair!
Several years ago, Sheila had knee surgery and recovered in McLean's post-acute care. She was deeply grateful for the warmth, expertise and thoughtfulness of staff – McLean felt like her own family caring for her. Of course, Sheila and Art are known by many, and their definition of family extends far and wide.

Enjoying Retirement
For 36 years, they owned Phillips Sportswear of Simsbury. They were also founding members of the Farmington Valley Jewish Congregation, and Art was an active member of the Simsbury Kiwanis and involved in the founding of the Simsbury Ambulance. He also served as Treasurer of the former Granby VNA and was an early proponent of Hospice care in the Farmington Valley. Clearly, their engagement in community runs deep. Additionally, the Phillips spent 20 years of daily involvement at the Hospital for Special Care, where their son, David, lived for 20 years after a tragic car accident as a young teenager.
Sheila and Art love their community. They wanted a way to ensure their health and vitality, while providing for the future of McLean. They chose to create a charitable gift annuity with McLean.
Sustaining the Legacy of Love - Fred and Mae Kaprove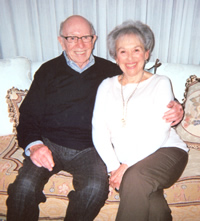 Mae's mother, Rose Platt, lived the last four years of her life at McLean and missed her 102 year birthday celebration by just a month. Her final years were lived at McLean with dignity and grace - fitting for a woman who carried elegance into the smallest of her daily routine. In gratitude for the loving care Rose received at McLean, the Kaproves have recently included McLean in their will.
Fred is quick to note that they have not lived a fancy life. In fact, Fred retired just two years ago at the age of 84! In his first career, Fred was an entrepreneur and educator. He devoted more than four decades to teaching children and adolescents with learning disabilities At age 65, Fred launched his second career matching organizations with government grants. In addition to raising two children, Mae worked thirty-five years at Gerber Scientific keeping all administrative systems in ship-shape order. Fred and Mae are devoted to their family and community, and their joyful legacy includes three grandchildren, a great grandchild on the way and a bequest gift to McLean to support compassionate care for decades to come.
Land Preservation Stewards - The Eddy Family Legacy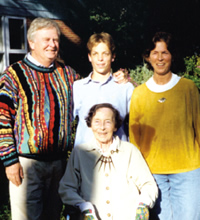 You may recognize the Eddy name from the Deborah Eddy Trail at the McLean Game Refuge. Deborah served 23 years as a Trustee of McLean and the McLean Game Refuge. Her active commitment to the community was made all the more remarkable because she became paralyzed from the waist down after an accident in 1966.
Deborah's daughter, Heidi Eddy Riggs reflects: "When we are young, I don't think we are really conscious of what truly interests our parents in their lives and pursuits. I am particularly aware of this now as I remember my mother, and all the time she devoted to the benefit of others." Deborah didn't have the money to give to her favorite charities, so she gave her time. But, as her children grew up, they were able to make contributions in her name.
Heidi remembers: "Well before my mother's death, my husband and I wanted to honor my mother's commitment to the McLean Game Refuge. We made a gift and then worked together with my husband's company to match the gift. Shortly thereafter, we also decided to include the Game Refuge in our will. "Protection, preservation and propagation of the wild birds, game and fish," were the words and intention of Senator McLean in his estate for the purpose of the McLean Game Refuge. We believe it is an asset worthy of preservation for future generations."
I want to help sustain McLean for generations to come. - Stan Waczewski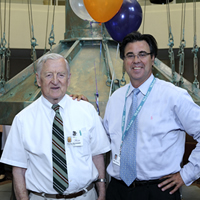 I know the meaning and value of money. I was raised in the depression and my family had limited financial resources. I joined the service to pay for college, and the GI bill paid for most of my education. From that point on, I wanted to give back to society what was given to me.
I've been telling people for decades that love makes the world go round, but we need enough money to make sure the world spins smoothly on its access. Things don't happen by themselves. People make things happen.
I want to help sustain McLean for generations to come. I've known about McLean for years as a pleasant and friendly place. Then my wife, Lois, was at McLean for Hospice care. The staff took excellent care of her and paid attention to all the little details to make her comfortable.
They also paid attention to me. Lois died in the early evening, and within an hour the bereavement coordinator was there to comfort me. I joined the McLean bereavement group shortly thereafter and this group became a source of comfort and social activity. Now I'm a Hospice volunteer among other volunteer activities at McLean.
I speak from experience when I say it's a great feeling to include McLean in your will, and it may be the largest gift you ever give. I believe I have an obligation to give back and to make things better. If I can get other people to join me, then even better! Thank you for your time and consideration.
Roots of Family and McLean Run Deep – Al and Muriel Schuyler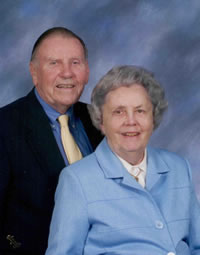 Al first met Muriel when they were little ones: ages ten and seven respectively. Their parents' families were long time acquaintances. One afternoon, Muriel's parents stopped by for a casual visit and Al's kid brother managed to gash open his knee and create a minor medical emergency. Al and Muriel were then sent outside to amuse themselves on the swing. Al remembers Muriel's dark bobbed hair and Mary Jane shoes. Beyond that she was just a girl, and not a word was spoken.
Fast forward to their young adult years. Al had a maiden aunt who lived on Long Island, a short distance from Muriel's family. She had urged Al to meet Muriel for a long time. But what young man is going to take advice from his maiden aunt?
Then along came a fall weekend in 1940. Al was living in New York City and on his first job after college. Broke and hungry, he decided on a weekend visit to his Aunt for much needed meals. Serendipitously, Al's aunt had been invited to dine with Muriel's parents and a phone call quickly added Al to dinner. Meanwhile, Muriel had just stopped home for a day off from her nursing program, and it was immediately obvious to Al that after 14 years she was no longer just any little girl in Mary Janes.
In September 1942, Al's army unit was ordered to the South Pacific and Muriel was granted special permission to marry by the Columbia School of Nursing (marriages were not allowed for active students). They became Lieutenant and Mrs. Schuyler on September 9th in the Trinity Episcopal Church in Reno, Nevada.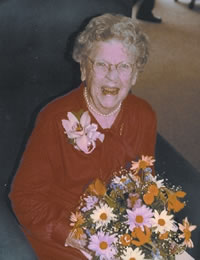 Muriel received her nursing degree in 1943, and Al left the Army after five years of service in 1945. Al returned to work with Ernst & Young in New York City, and in 1959 moved to Hartford as a managing partner. They settled in West Simsbury with their two sons, who still live with their own families in Simsbury.
In later years, both their mothers moved to McLean in the then independent living section in the McLean Health Center (known then as Judy Fitzgerald's gang) and enjoyed the active social life with congenial people.
Before Muriel became critically ill and received McLean Hospice care, Al and Muriel discussed a legacy to McLean. Both agreed that a specific amount should be willed to McLean in appreciation of the excellent care and services over the years to all residents and patients. Muriel's joyful spirit and involvement at McLean is sorely missed, but Al's humor and appreciation for life keeps everyone smiling.
A Legacy of Laughter, Love and Compassion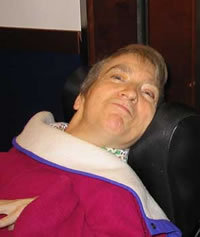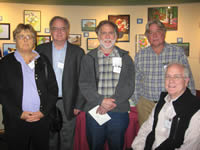 Cousins Maggie, Henry, Rod, Ed and Bill Fountain gather to celebrate Hospice Family Room dedication in memory of Betsy Tesone.
Betsy Tesone, a thirty-year resident of McLean, left in her will a charitable gift to enhance Hospice care for McLean residents Gail Johnson, a McLean evening nurse supervisor, recalls their nearly thirty–year relationship and Betsy's extraordinarily bright spirit:
Betsy had a smile that was broad and beautiful, and eyes that danced when she laughed. We shared the same birthday and enjoyed eating lobster to celebrate every year. She had a passion for singing, movies (comedies, of course), swimming, and Elvis. Betsy loved church services, but she loved summer the best. She spent her summers at camp and with her Aunt Polly Fountain and cousins. She had walls of pictures in her room of family and friends.
Betsy's inner strength and tolerance for her disability always amazed me. We spoke of reincarnation often, and she wanted to return as a bird, free and soaring. I am sure God has obliged. Betsy is gone from our lives but not from our hearts.
Recently, Betsy's cousins, all five Fountain siblings, gathered for the dedication of the Betsy Tesone Hospice Family Room made possible by Betsy's bequest gift. Fully renovated for Hospice family members, the room includes a pull out couch, bathroom, shower and other comforting amenities. The room dedication included thoughtful readings and song, along with spontaneous laughter as the group uniformly decided that Betsy's only critique would be that the room lacked a giant photo of Elvis.